Unique Straight human hair headband wig black highlight 30#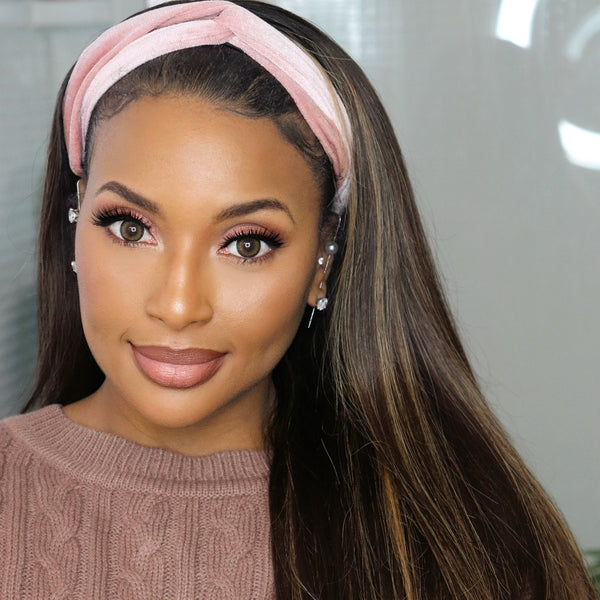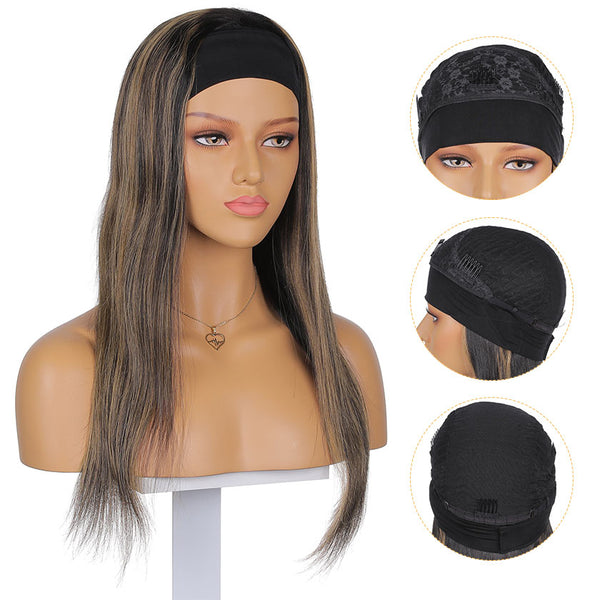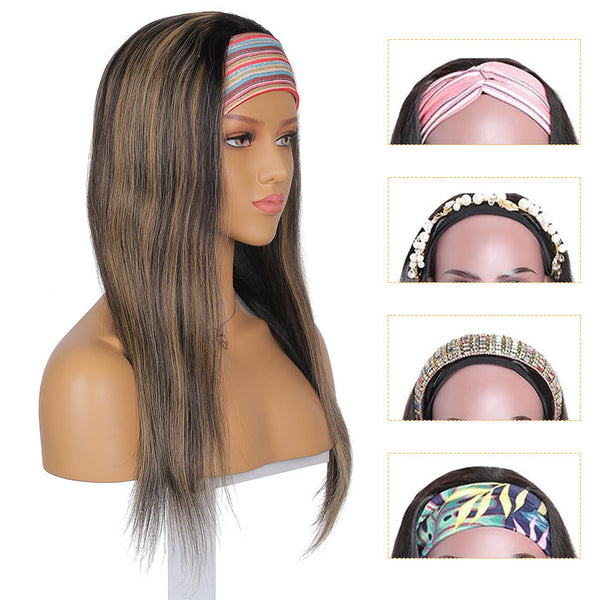 Black Highlight Human Hair straight Lob Headband Wig - Customized

This is a polished, refined and sassy lob hair with a black ultra soft stretch headband. Shoulder length yet versatile unit can be transformed with various headband. This headband wig is perfect for a quick everyday look, or wonderful to wear to a party! Easily conceal your natural hair and secure with the two comb clips. MildWild wigs has developed and perfected a unique fiber technology that features multi-color tones on single hair. This remarkably realistic effect adds depth and body to a distinctive contemporary look. The array of beautiful, dimensional colors were hand-picked to compliment this style.
SPECIFICATIONS:
Hair Type: Human Hair
Hair Color: 2/30# Highlight
Hair Density: 120%
Hair Length: 16 inches
Size: 22.5 inches,standard medium
Headband Material: Black Cotton
Cap Construction: Headband Wig
Wear this gorgeous headband wig to create a sophisticated look that is ultra feminine. It's easy to use and creates an intricate look without all the fuss! A great unit to add to upscale looks for occasions like gym, vacation, daily & home and busy days.
MildWild Headband Wigs Signature
MildWild headband wigs is human hair sewn on a soft cap with clips and adjustable straps on the back, a comfort-stretch fabric headband around of 360°for a secure fit. They are crafted, fitted and styled with unparalleled skill and attention to detail, every step of the way. No lace no glue. You can just throw it on your head & go in seconds. Look glowing and gorgeous at the gym; sweet and stylish at the store; or polished and practical at the park with this classically comfortable style.
MildWild Headband Wigs Details 
Lightweight, comfortable, and realistic looking, headband wigs are ideal for women who aren't comfortable with a full wig, but still want the look of hair. They can also be worn by women who have hair as a half wig by pushing it further back on the head to create the appearance of wearing a headband. The lycra headband is fashioned in classic black, but you can wear your own unique headband or scarf over the headband to add variety to your look...
A BONUS Package Includes:
Exquisite Gift Box: Made from high-quality ultra-durable construction, it provides plenty of space for your ribbons, tools, cosmetics, jewelry, toiletries, coins, etc. 
Gorgeous Headband: Available in a variety of colors to perfectly match your hair.
Fancy Necklace: Great gifts for yourself or friends. 
Scented Soap Flower: Perfect as a decor, or for bathing and hands washing.
Easy-to-Use Wig Cap: Tightly hold your hair in place.
FEATURES:
Put on & go wig.
Beginner friendly.
No glue, no gel.
Super realistic.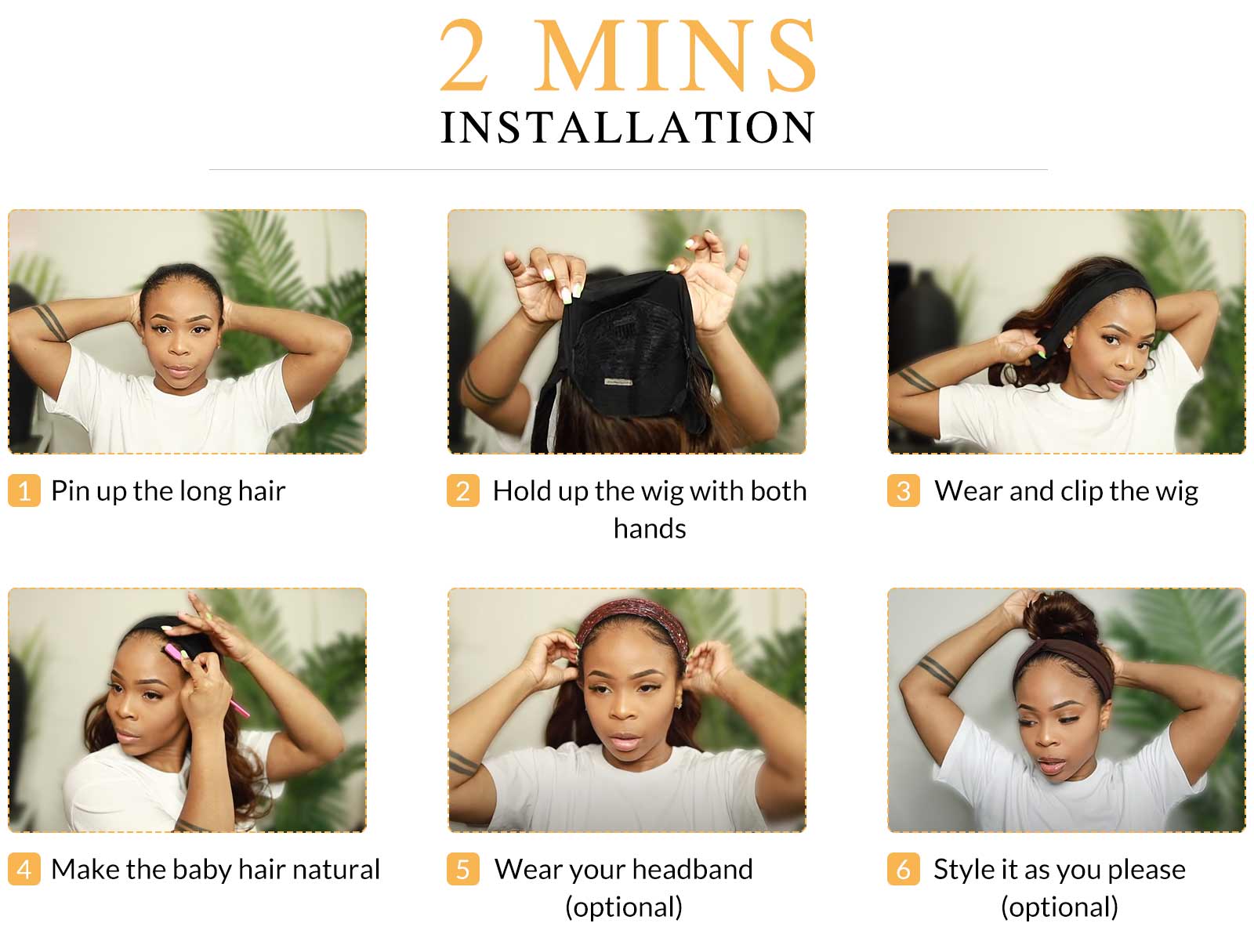 Warranty
7-day Exchange & Return Policy:If there is any problem with the wig you received, please contact us within seven days.
45-day Warranty: We provide after-sales service if the wig you bought has quality problems within 45 days.
Attention: We do not accept any refund reasons other than quality or the incorrect product.
You could contact us via email at warranty@mildwild.com.